Looking for FBI Fingerprinting? Click here
Looking for Secure Web Fingerprint Transmission (SWFT)? Click here
Experience Our Completely Flexible HR Technology Platform
Whether you're a client or a candidate, we want your experience with our proprietary onboarding technology to be superior. That's why we're hyper-focused on providing a user interface that is simple, task-oriented, and works with your internal workflow.
ScreenID's onboarding solution provides a real-time view into the status of current and past background checks and drug testing. The configurable dashboard easily manages tasks associated with the new-hire process.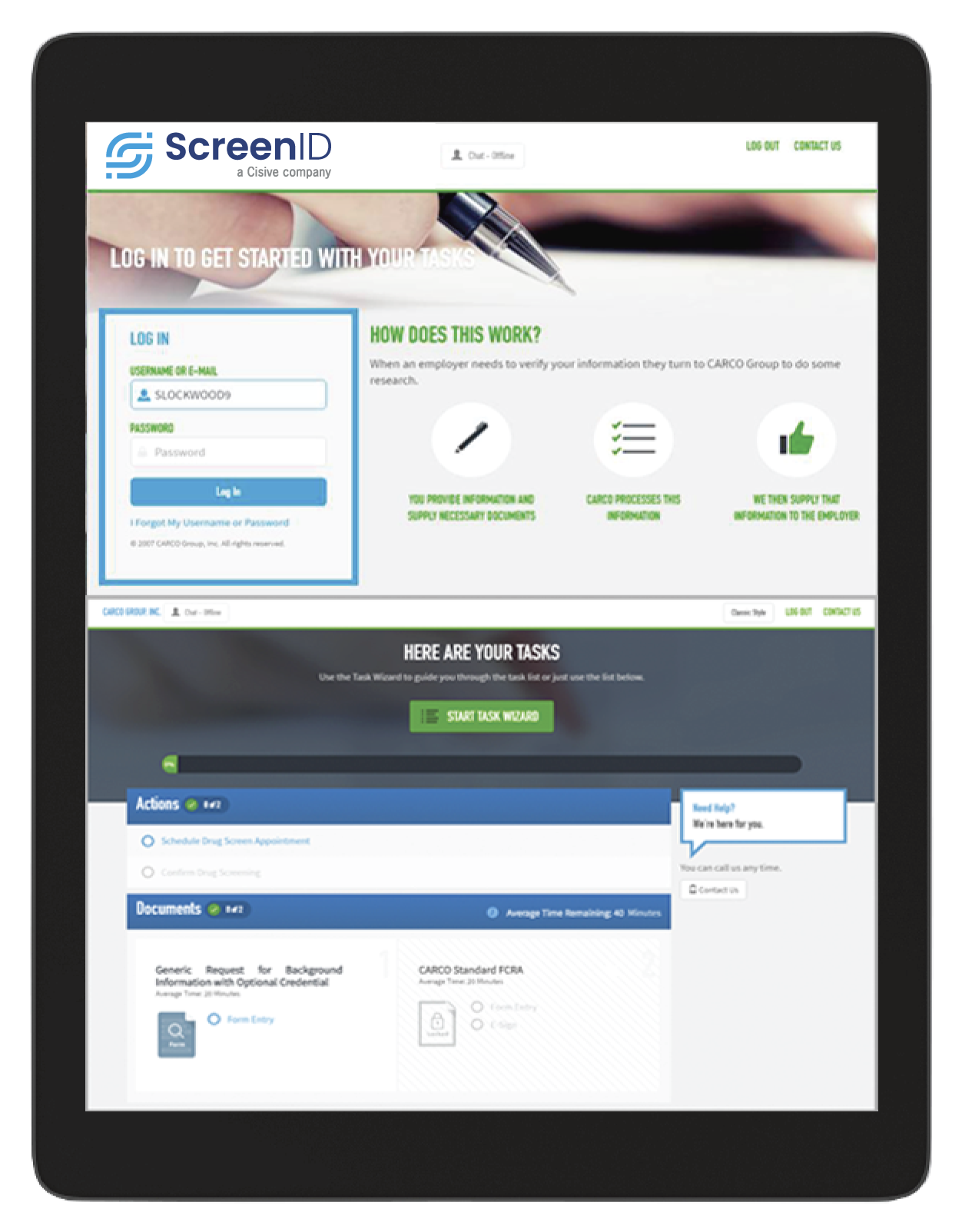 Keep Candidates on Track with a User-friendly Web Portal
Give your applicants an easy screening experience with an intuitive applicant portal to guide them through each step of the process. The portal features progress bars, an easy-to-read menu, on-screen text messaging, live chats, and phone and email contact options to help candidates complete the process smoothly.
Our system also carries forward data, eliminates duplicate data entry, and provides a faster, more efficient applicant experience. We recognize that ScreenID is representing your brand when we interact with your candidates, so we always ensure the highest quality, most professional candidate experience.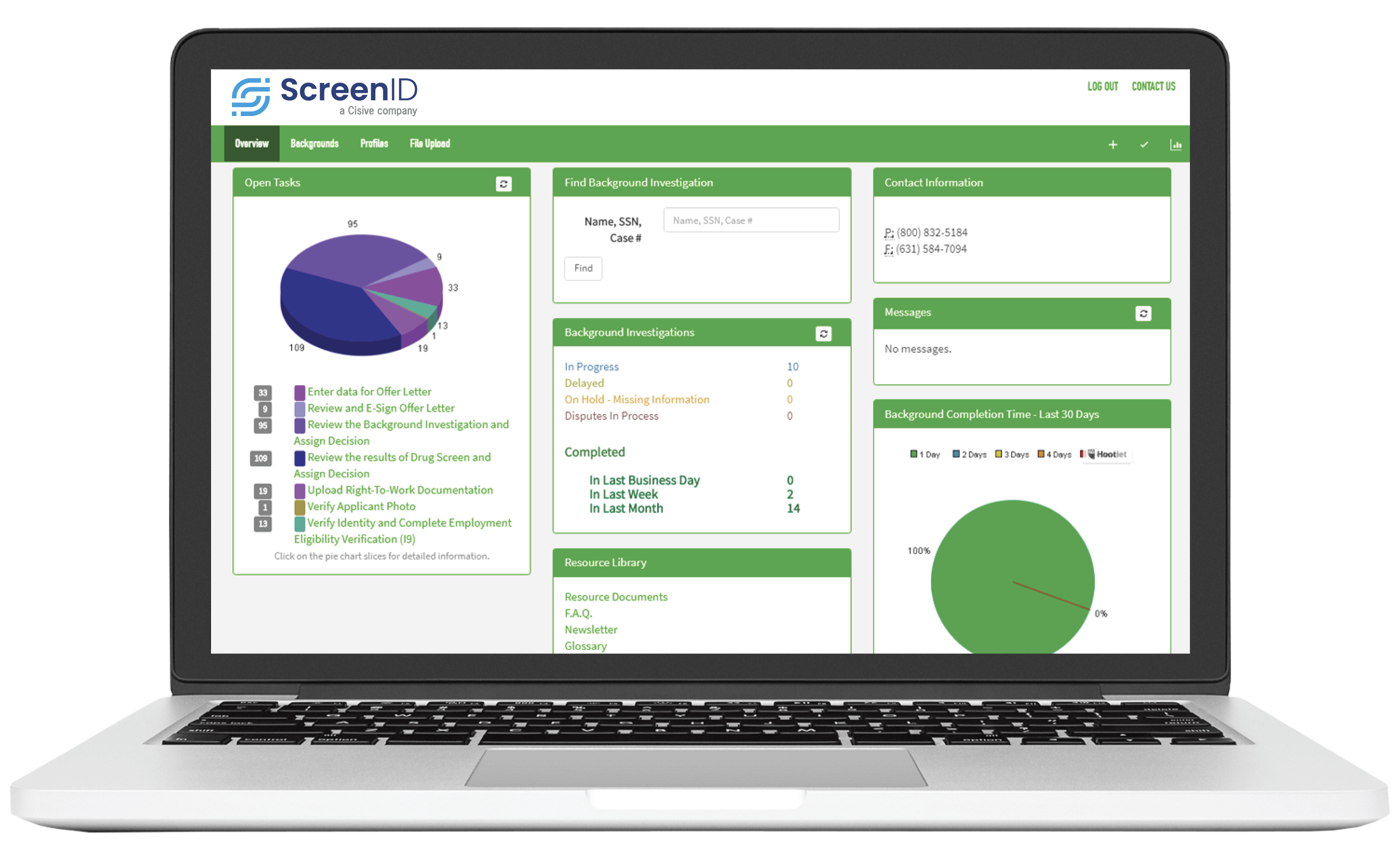 A Range of Tasks From an Engaging Portal
Our portal engages candidates to log in from a computer, tablet, or smartphone to easily accomplish a range of tasks:
Complete the initial employment application
Review and e-sign the FCRA form and other pre-hire documents
Schedule a drug screening or fingerprinting online
Submit supporting documentation
Dispute any adverse action findings
Accept an offer letter
Complete Form I-9/E-Verify
Complete direct deposit forms
Select benefits options
Participate in online HR training
Complete an exit interview
Receive support from ScreenID through every step of their career
Onboarding Technology Focused on Your Unique Needs
Our onboarding solution enables you to focus on what matters most: hiring the right candidates for your business. Built to meet your HR technology needs, it's highly configurable, scalable, and completely eliminates paper-based processes. It also works when you work — accessible anytime, anywhere. You also have the ability to modify workflow, rules, forms, and a multitude of settings to meet your unique needs.
ScreenID's onboarding solution integrates the entire pre-hire and post-hire process, including:
Applications
Offer letters
Email notifications
Pre-decisional notices
Adverse notices
I-9 forms
Tax-withholding forms
Benefits selection
Training videos
Exit interviews
Proprietary Technology Platform
Powered by a workflow engine that gives you complete flexibility, including exporting data and forms to other systems, such as payroll and benefits.
Completely Scalable System
A powerful rendering engine enables running high volumes of screens efficiently and accurately. The system also offers validation logic, an e-signature module, and a full document-management solution to ensure consistency of company-wide HR policies.
Platform Integration
A seamless integration with the top 30 applicant tracking systems enables turnkey solutions for enterprise clients. ScreenID is also a proud contributing author of the HR-XML/HR-JSON specification.
---